eLearning Program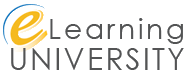 LTPA is excited to partner with eLearningU to provide ongoing education through live and recorded one-hour training programs. Our members now receive a 20% discount on eLearningU courses (live and recorded).
Every week, there will be a live, online course allowing attendees to ask questions at the end. All live courses are also recorded and available for you to take anytime, anywhere. For example, if you need a course on how search engines work for tomorrow's meeting with your web developer, you can take a one-hour recorded course from home tonight.
Online Course Benefits
All courses are tourism-focused and are delivered by industry experts on an array of topics, including Internet and social media marketing, branding, customer service and packaging
You take the courses online from the convenience of your office, which means very little waiting and no travel time
Most courses are available at the very reasonable cost of $49.95 and you can even share this cost if you want to have several people participate at once
Courses are available "live" allowing you to ask questions at the end of the program
Courses are also recorded and available at any time, giving you access to the courses whenever you need them, wherever you want to take them
You can suggest specific topics and specific speakers
To get started with eLearning Univeristy, click here. 
For more information about eLearning University's seminars, contact Charlie Waltman.